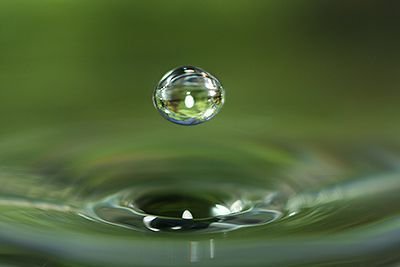 Water is an element that allows us to flow. In its essence is movement and brings change, transformation, transparency.
A person with the water in equilibrium does not fear the indecisions. He gets excited naturally and falls in love with joy. He lives with simplicity and harmony his feelings and moves with life adapting and changing when necessary. People with water in equilibrium are fresh, vital, transparent, they like to "soak" from their senses of each one of the dawns that life constantly gives us.
When the water is scarce the heart seems to become stiff and it costs us much more to excite, it seems that there is "dryness" inside. Joy disappears and we can live guilt, fear, distress. A person with water scarcity becomes dull, coarse, heavy. His life, without direction or change, seems stuck in the same emotions. And every sunrise, though unique, looks the same as there was yesterday. Lack is, distress and fear.
When the water is too heavy, the person suffers from uncontrolled emotions. His life flows so quickly that he cannot control it, the happy moments and the most negative moments change too quickly. You sit in the middle of a whirlwind. The body constantly changes and nothing can be done about it, life changes constantly, but not in a harmonious or happy way, but as an uncontrolled and violent torrent.
Situations such as falls, dizziness, certain accidents, thefts, loss of control, abuses of power, situations in which we have not understood what was happening or could not know what was going on, can give problems in the balance with water. Our water regains harmony when we take the determination to flow and allow consciousness in the now. Seeing, observing, feeling, living, is the best medicine to balance the water.
Eliminate attachments and fears of loss of control, regain balance and allow things to flow. Get excited and empathize a little more. Open your heart and breathe everything that life presents to us.
Exercise to feel and balance the water
Lie in a water bath, to be warm resembling the maternal womb. Feel the water, dance with it and discover its quality. In constant change the water soaks you with emotion, joy, cleanliness. The water cleans you up and moves you towards transformation.
Start to breathe feeling like the quality of water reaches your skin and feel in your skin the water, feel the water in your hair, in your hands, and feel like the quality and movement of water flow energetically to your interior. Use the imagination feeling like water soaks you with vitality. Feel the water in you, flowing through your veins, feel the quality of the water in your heart, in your inner movements, in your brain, in your vital organs. Feel the water her to you and by to your entire body.
Then he sees a little deeper and takes the water to your inner space. Feel the water soaking from its essence to your essence. Feel the nature of the water flowing into you, you, "Mojándote".
When all you are water and feel the water in all your being, expands that union with water and its benefits to all the outside, exhales the quality you feel of water, harmony, transparency, purification, fluency, Expándelo exhaling in all directions , to everything known and unknown.
Bring the benefits of your experience to all the people you know, especially those who are not fluent and continue to take it to all people, all beings, the whole planet.